Tom Frampton has long believed that an appreciation for the past can greatly enhance the future. So while Fanimation is intensely focused on designing fans that leverage today's trends and technologies, the company—thanks to Tom's passion for antiques—is also devoted to preserving the history and evolution of fan design.
In fact, one man was brought into Fanimation for that sole purpose.
"This is a dream job to a fan geek," says Kim Frank, Fanimation's restoration guy.
With an affinity for relics of all kinds, Kim has been involved in the restoration of antiques for nearly 50 years. He began as an apprentice at a furniture store, refinishing everything from cabinets and dining room sets, to barber chairs and other rare pieces. He has restored motorcycles over the years, too.
"Woods and metals have always appealed to me," he says. "And I felt like whatever I was working on, I could make it better—and make it look the way I wanted."
That passion eventually found its way to fans.
Antiquing with his wife in a small Indiana town, Kim bought an old fan, restored it and found a new obsession. Before long, he was regularly buying fans, tinkering with them and reselling them online and at local shops and community events.
In the early 2000s, at a local arts festival, a man walked up to his fan booth and began asking about his restoration experience.
That man was Tom Frampton, owner of Fanimation.
A couple years later, Kim saw a "Future Home of Fanimation" sign not far from his home. He reached out to Tom, reintroduced himself and saw some of Tom's rare fans. Kim has been restoring fans for Fanimation ever since.
Today, Kim, along with his son, Eddie, restores fans. They do everything from simple repairs, such as replacing cords or changing wicks, to completely rebuilding motors, fabricating parts and custom painting. All are restored to their original beauty—some look brand-new; others are made to look aged.
Many of the fans they work on find their way into the Antique Fan Museum. Located at Fanimation's headquarters, the museum displays fans on loan from members of the Antique Fan Collectors Association—including 56 from Kim's personal collection and 1,500+ from Tom's.
A walk through the museum gives a peek into how the fans of yesteryear inspired more modern designs.
The Savory Airator inspired one of Fanimation's earlier fans called the Fargo.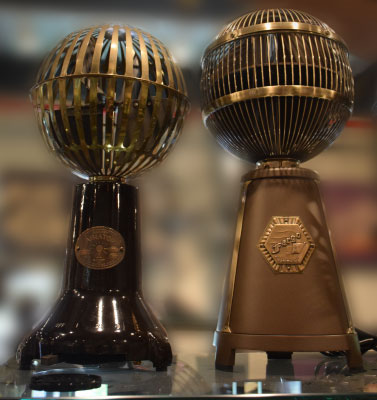 The 1920's Victor Luminaire Parlor Fan was the design motivation for Fanimation's Old Havana pedestal fan.
Whatever time period they were developed in, Kim says they share the same quality.
"For us, this is a form of art," he says. "And we want to preserve it, learn from it and appreciate it."