The marvelous Fanimation summer sale is still tolerating this summer heat, and one of the most beautiful ceiling fans on the market today, Marea, is here to swoop in and help you keep your cool. The perfect complement to any contemporary lighting layout, Marea is available in two sleek finishes, Oil-Rubbed Bronze with an Amber Frosted blade or Satin Nickel with a White Frosted blade. Either finish will knock your socks off. (But not literally. That might mean you have a fan too powerful for your home.) This style has a sleek, minimalist look and Marea would pair quite nicely with any geometric, or even industrial decor.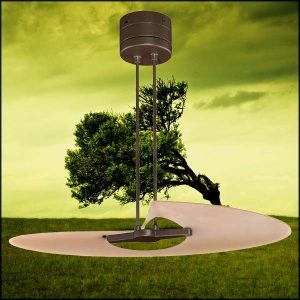 The simple lines and elegant curves of Marea's blades make it a favorite modern ceiling fan among contemporary interior decorators. The sophisticated shape of this Fanimation gem lends itself nicely to your home's subtle furnishings and Marea's three forward and reverse speeds make soothing, gentle breezes that you can control with the touch of a button. How is that possible? Well, this lovely ceiling fan includes a TR33 hand held remote as well as a control which conveniently mounts over a wall switch plate. And of course, the 42″ blade span will cool down those muggy, humid evenings in two shakes of a lamb's tail, with Marea waves of relief spreading out over your dining room, bedroom, kitchen, or sun room.
The chic Marea ceiling fan comes with three sets of double downrods which can be adjusted to make your fan an overall height of 12", 18" or 36", depending on your decor and cooling preferences. And this smooth, futuristic fan is even UL listed and includes a lifetime warranty, so you can be certain that every summer for the rest of your life you'll be as unruffled as a crisp, clean fall breeze. Take advantage of this incredible Fanimation sale now–it only lasts for a few more sultry and sweltering days—and the greatest discount can be found here at AffordableLamps.com.
Written by Heather John, Marketing, Affordable Lamps